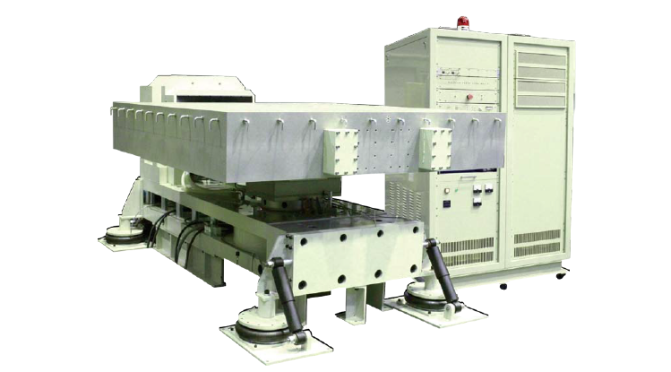 2-axis Vibration Test Systems G-8 Series
Easier Change of Vibration Directions with One-touch Switch Operation SHINKEN 2-axis Vibration Test Systems can eliminate troublesome and time-consuming work for the specimen handling and changing vibration directions with one-touch switch operation, thus most suited to tests for large, heavy specimens.
Space-saving SHINKEN 2-axis Vibration Generators(VGs) have a common table for both horizontal and vertical excitation, thus making the space needed for the VGs smaller than the conventional single-axis VGs which require two tables; especially VGs with large tables.
Cost-saving As it is said that vertical and the so-called 'Major Horizontal' excitation can precipitate over 90% of the hidden flaws, 2-axis simultaneous excitation can be a cheaper solution.
2-axis Simultaneous VTSs & 2-axis Sequential VTSs Available In addition to 2-axis Simultaneous VTSs, 2-axis Sequential VTSs, only capable of testing axis by axis with one-touch switch-over or optionally available automatic series tests (in order of Z→X) are also available.